Leadership in the field of innovation
Blair Miller
Blair is the founder and president of Blair Miller Innovation. He has dedicated his career to helping organizations cultivate creative leadership, build teams, and foster innovation. As a guest instructor at graduate business programs, Blair has shared his expertise at Northwestern University's Kellogg School of Management, the University of Chicago, and Emory University.
Blair has coauthored numerous articles and books on creativity, innovation and creative problem solving, including Creativity Unbound, which has been translated into French, Spanish and Japanese. He is publisher of FourSight: The Breakthrough Thinking Profile, a diagnostic tool that has offered thousands of individuals and teams the ability to see how their personal problem solving style affects their creative output. A recognized authority in the field of creativity, Blair is a recipient of the Distinguished Leader Award by the Creative Education Foundation.
Blair's gift for facilitation and teambuilding grew from his early years as a classroom teacher and Outward Bound instructor. Those experiences inspired him to pursue a Master's of Science degree in Creativity, Innovation and Change Leadership from the State University of New York. Today, the business that bears his name considers both the head and the heart when approaching innovation and the enrichment of both the workplaces and bottom lines of clients. Over the course of more than two decades, Blair has served numerous Fortune 500 companies, including Aegon, Avon, Cadbury Schweppes, Canadian Broadcasting Corporation, Coca-Cola, Dupont, Deloitte, Kodak, Kraft, MeadWestvaco, NutraSweet, Pfizer and SC Johnson.
When not consulting with clients or delivering programs, Blair is a husband and father who likely can be found at the family's home in Evanston, Illinois learning creativity concepts from his three kids.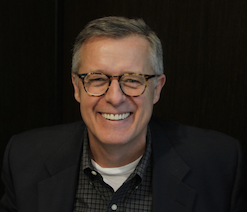 Our group found Blair Miller to be an exceptional facilitator. He was dynamic, active and was able to take a group of cynical and somewhat jaded surgeons and move them forward to directions that were very constructive and positive.
-Chief of Cardiac Surgery